Lagos Open Football Trial Attracts 27 Players Nationwide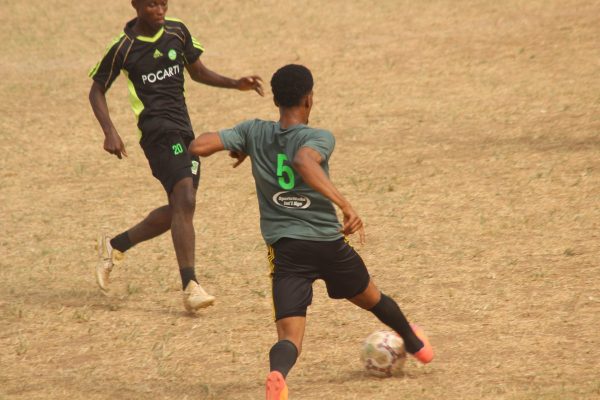 It was a 9 Goals Galore on Sunday, January 30, 2022, as Team Black ran out 7-2 against Team Green with A. Yahaya from Kano and Governor from Delta, both getting a brace each. Oluwayemi Eniola, Adegbuyi Damilola and Adeola Jacob also scored one goal each for Team Black.
27 incredible youth football players from all over Nigeria participated in yesterday's Lagos Open Football Trials/Scouting program.
The event attracted football players from all over the country including Delta, Imo, Kano, Kaduna and Kogi states. These talents are hopeful to be scouted as the Next Football stars.
Igwe Bethel from Owerri pulled one back from the penalty spot after A. Ahmad was judged to have handled the ball while intercepting a cross from Sam Chisom.
Joseph Ayodeji scored another for Team Green in the second half, getting on the end of a delightful low cross from the right by Jimoh Muhammed who was very lively since coming on for the injured Ochiche Wisdom late in the first half.
Performance Stats
Team Line Up – Jan 30 Lagos Open Football Trials
Team Black
1. A. Abiodun
2. J. Henry
3. E. Governor
5. A. Quadri
7. A. Ahmad
9. A. Damilola
11. D. Akinyelure
14. S. Coker
15. A. Yahaya
17. T. Emamezi
18. O. Romeo
Subs
5. A. Jacob (A. Quadri, 45)
10. O. Eniola (T. Emamezi, 65)
17. T. Emamezi (A. Yahaya, 75)
31. I. Olotu (A. Abiodun, 45)
Team Green
1. O. Ayomide
3. I. Olotu
5. B. Igwe
7. W. Ochiche
10. D. Duyile
11. C. Okoliachu
12. E. Simon
20. A. Peace
24. C. Anah
26. S. Chisom
27. C. Nwabueze
Subs
13. J. Mohammed (W. Ochiche, 43)
24. J. Ayodeji (C. Anah, 45)
10. Y. Akintonde (D. Duyile, 45)
3. A. Abiodun (I. Olotu, 45)
Goal Scorers (Assist)
Team Green
A. Yahaya (T. Emamezi) 20
Governor offside goal – 25
Governor (T. Emamezi) – 33
Adeola – 56
Yahaya – 58
Adegbuyi Damilola (Coker) – 60
Eniola Oluwayemi – 70
Team Green
Igwe Bethel (p) – 43
Joseph Ayodeji (Mohammed Jimoh) – 73
We are the Home of the Next Football Superstars.
Turf Season is a football project giving talented grassroots youth footballers a platform to showcase their skills and attract football career opportunities both locally and internationally. Contact Us.