July 2022 Trials: Zaky Rules Game 2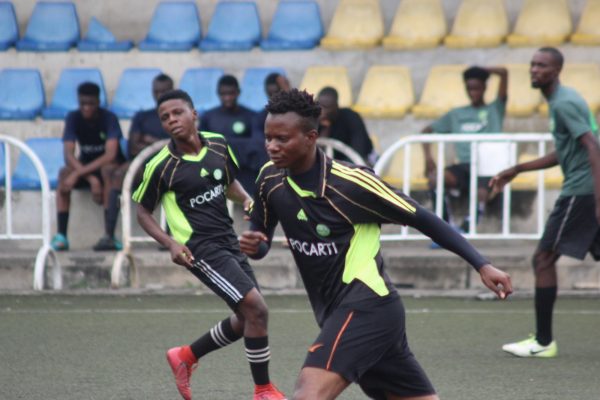 Another two goals from Zakariah Hammed sealed the win for Team Black against Team Green in Game 2 of Turf Season July 2022 Football Trials.
Zakariah has been in amazing form so far, scoring a brace in the last game. This makes it 4 goals in 2 games. He is really looking ready for Europe.
Team Green will be looking to bounce back with a better result in Game 3 as they face the Whites, while Team Black will be hoping on Zakariah to lead the team to victory in Game 4.
TEAM GREEN
1 GK OSOBA GEORGE
5 FW DUYILE DAVID
7 FW THEODORE CHRISTIAN
9 FW DESTINY ROBINSON
10 MF LANRE ADEBAYO
11 FW ADESANYA ADEYEMI
12 MF TIJIESUNI EHIMEN
20 MF CHIBUEZE PASCHAL
24 FW ADEOLA JACOB
27 DF ABUBAKRI ABDULMUMIM
TEAM BLACK
1 GK ADEOYE ISRAEL – 1 Assist
3 MF ELIJAH OBED
5 DF SAMUEL EYEWE
7 FW ZAKARIYAH HAMMED – 2 Goals
9 FW CHISOM SAMUEL
10 MF KEVIN OKOLI
11 FW ALABI ROQIB
15 MF BALOGUN MUHAMMED
17 DF RAIMI RIDWAN
18 MF OSOSA JAMIU
Produced by Paschal Agonsi for Turf Season, a global platform for transforming grassroots talents into superstars.
Turf Season is a football project giving talented grassroots youth footballers a platform to showcase their skills and attract football career opportunities both locally and internationally.
Learn more at www.turfseason.com
Contact us here: info@turfseason.com