July 2022 Trials: Salaudeen Draws First Blood in Game 1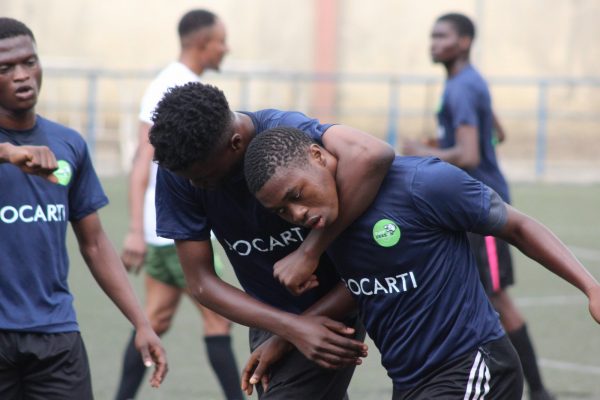 Turf Season July 2022 Football Trials kicked off with Game 1 between Team White vs Team Blue.
The game ended 1-1 with Alfred Ati levelling up for the Whites after Salaudeen Ahmed opened up the scoresheet for Team Blue from a sublime cross from Joshua Mercy.
Team Blue will progress to the July finals being the first team to score, all thanks to Salaudeen Ahmed.
Watch the Match Video:
TEAM WHITE
1 GK SEUN JOSHUA
2 FW ALFRED ATI – 1 Goal
3 MF JOHN MOSES
21 FW ISAAC FOLORUNSHO
22 DF AYODELE OLAMILEKAN
26 MF AKANBI OLAJUWON
27 FW AKINYEMI GANIU
31 MF EMEKA EZE
35 MF FRANK GABRIEL
47 FW SOWUNMI TOLUWANI
60 DF ESAN OPEMIPO
TEAM BLUE
16 GK ALI IREMIDE
3 DF ABDULLAHI MUBARAK
4 FW JOSHUA MERCY – 1 Assist
5 DF AJASA BABATUNDE
6 FW KAYODE MABINUORI
7 FW OKORIE DANIEL
8 MF ADEDEJI SAMUEL
10 MF YAKUBU HASSAN
11 FW SALAMI SUNDAY
14 FW SALAUDEEN AHMED – 1 Goal
Produced by Paschal Agonsi for Turf Season, a global platform for transforming grassroots talents into superstars.
Turf Season is a football project giving talented grassroots youth footballers a platform to showcase their skills and attract football career opportunities both locally and internationally.
Learn more at www.turfseason.com
Contact us here: info@turfseason.com