Arsenal Trials: What's Coming Next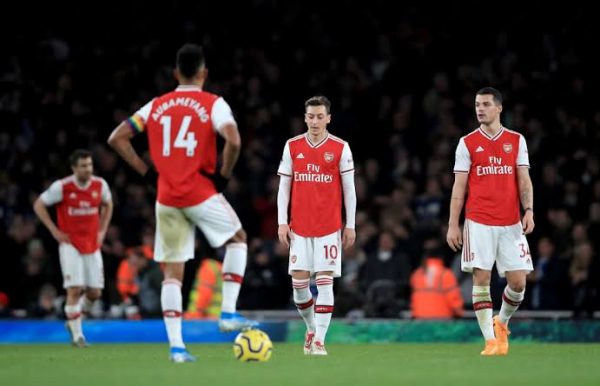 Arsenal, the pride of London and one of the traditional super powers of English football. The Gunners as they are popularly known boast of three Premier League titles (13 in total), record winner of the FA Cup, scores of Community Shield titles and hold the prestigious Gold Premier League trophy, a fitting reward to going an entire Premier League season unbeaten.
That, as they say, is history as the fortunes of the club seems to have nosedived. From having not won the Premier League since 2004 to falling out of the top 4 since 2017 and currently languishing in the mid-table position following project restart, with top 4 being a distant possibility.
Like other clubs, Arsenal have tried to rejig their strategy, from parting ways with longest and most successful manager, Arsene Wenger to smashing their age long transfer record three times in as many years with the signing of Alexander Lacazette, Pierre Emeric Aubamenyang and Nicholas Pepe.
Wenger has not been the only managerial casuality, his successor, Unai Emery has also bitten the Emirates dust with incumbent manager, Mikel Arteta also under fire following strings of poor results. What then is the way forward?
While it is too early to call for Arteta's head as he just had few months at the saddle, the blip should be arrested. Again the Gunners are in dilemma with respect to the future of their captain and leading marksman, Aubamenyang. With just a year left on his current contract, the Gabonese has stalled on a new deal, leading to wild insinuations that he might be following other big stars through that painful route of forced sale or free transfer.
To stand a chance of keeping Aubamenyang, Arsenal must show more sporting ambitions on and off the field. Performances and results must pick up on the field, Arsenal must fight to return to Europe's elite competition. A look at the table shows it is is difficult but not impossible, with 8 games to go, Arteta's men are 11 pts adrift of the 4th spot. A winning run could see them push for it but another loss could see them out of the picture.
Off the field, Arsenal should start preparing for next season. Without doubt, they need to splash the cash, Arteta should be backed in the transfer window for his own kind of players. He has shown interest in Partey, the Athletico Madrid midfielder, he should be supported. A look at the Arsenal team shows that the team needs serious reinforcement across all the departments.
After Saturday's match, Arsenal might be needing a goalkeeper with Leno's suspected long term injury. The defence is in shambles though young French prodigy William Saliba has arrived but he needs a worthy partner, the likes of Mustafi, Sokratis, Holding and Luiz cannot be trusted.
In the central midfield area, the team is not only short in quality, it is bereft in quantity. Torreira has been linked with a return to Italy while Xhaka is still unsure of a stay though the arrival of Arteta gave a brief reprieve. Ceballos has made it clear he wants a return back to Spain, either Madrid or another Spanish club. What then is left? The midfield party Arsenal need is more than Partey.
The attack seems decent but the Gunners must find a way to keep Aubamenyang and get Lacazette firing again either he is cashed on and the funds re-invested or his form worked on. In Martinelli, Pepe, Arsenal have some very exciting young attackers.
The question on the lips of many is when would this sleeping giant wake up? Can this falling giant rise again? Yes, the giant can rise again but when is dependent on how ready the club is to do the right thing. The FFP rules have been relaxed, this is the time to clear the deadwoods and splash the cash on better players. Not the time to call for the head of Arteta or call to question his competence. He needs time and his own players.
Source: OJB Sports