Terence Wandum Advises Young African Football Talents
Terence Wandum is a SMWW football agent based in the USA on a visit to Nigeria for the first time to host the African International Showcase (Nov 10 -20, 2019), Terrence takes time out to share some advice for Young African football Talents/prospects.
In a video interview in Lagos, November 5, 2019, Terence shares his thoughts about what it takes for African talents to succeed as well as Turf Season's Impact in Nigeria's Football Development.
The African International Showcase is bringing football scouts and club representatives all over the world to a 10-day camp in Lekki, Lagos, Nigeria.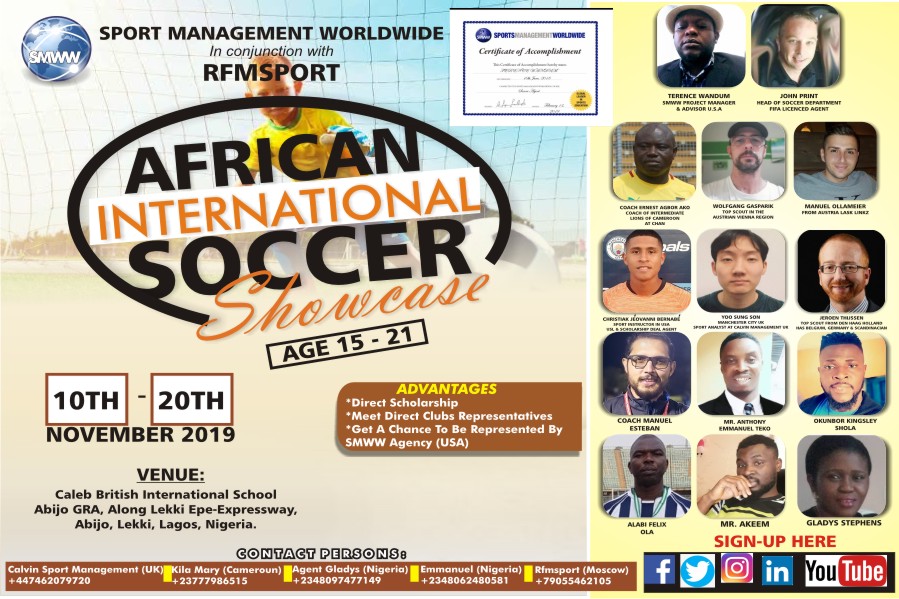 Interested players, aged 15 – 21, are invited to participate and showcase their skills in front of European and American Football Scouts and Clubs. The Camp holds for 10 days, November 10-20, 2019 and costs 36,000 Naira only to register, Accommodation Inclusive. For more information, please call or whatsapp 08175487536.