Matchday19 versus HOP Football Academy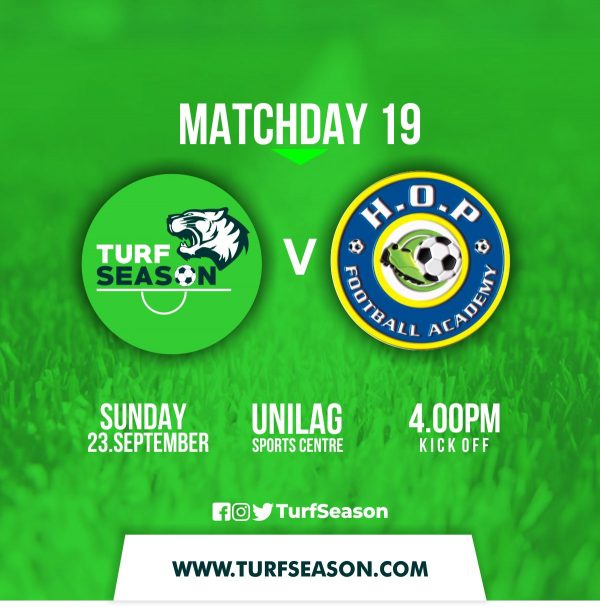 It has been an eventful week for football with the return of the Champions League and the Europa League. Expect a spectacular weekend with Turf Season Matchday19 this Sunday, September 23, 2018 at the University of Lagos Sports Centre by 4pm.
A defeat in our last game against Dolphin FC (Team Ikoyi) will be quickly forgotten as the task to bounce back with a win is of top priority.
Despite missing key players due to injury, illness and for personal reasons, Team Manager, Paschal Agonsi, is confident of fielding a good side to deliver the much needed result.
Speaking after Thursday's training session, Paschal Agonsi was hopeful to see a good reaction from his side as HOP Football Academy pay a visit to the University of Lagos Sports Centre, on Sunday.
"I'm expecting a good game as always and the players are fully aware of the reaction I expect from them. It will certainly be a great match to watch. HOP Football Academy are a very disciplined and organized side. It will be a tough game but I expect we come out victorious."
In Other News:
Free Medical Screening to hold on Tuesday, September 25, 2018 at the University of Lagos Sports Complex. There'll also be a free training session for all participants with a chance of a free scholarship at the Turf Season Football Academy. See Flyer for Details.

What's the Relationship between Agriculture and football? Our Players share some insights on Instagram. Watch here.