How Super Eagles can beat Argentina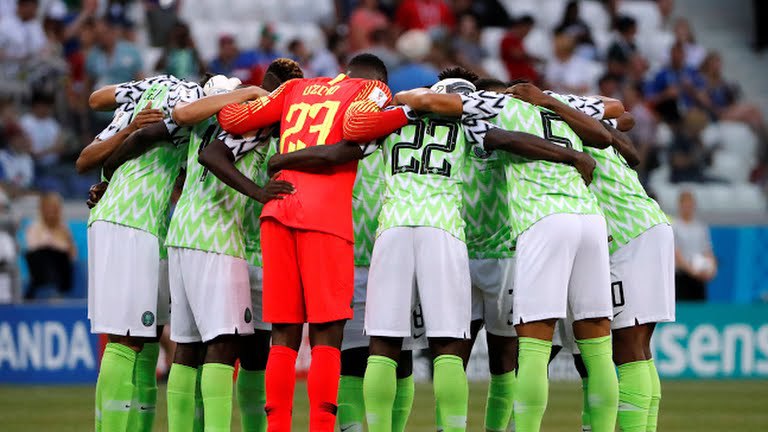 Super Eagles of Nigeria play Argentina in St. Peters-burg, Russia as they fight for a place in the 2018 FIFA World Cup Round of 16. Nigeria needs a least a point from the game to qualify to the next round. Nentawe Yilwatda, a government official in Benue State, shares some insights on how the Super gles can soar high above the Argentinian Squad that boasts of the likes of Lionel Messi, Aguero, Higuain and a host of others. Here's the steps Super Eagles need to take to win, as Nentawe puts it:
1. In the two matches against Croatia and Iceland, we sat deep, passing long balls to our attack which never worked. Our attackers are of average height so using long balls against those giants was a tactical mistake. Moses, Musa, Eteobo, et al are of average height. They change their approach in the second half and the difference was clear. Don't change such joker.
2. Our first halves are normally lethargic, woeful and we shy away from the third quarter of our opponents. Slow buildup and back passing of the ball instead of fast breaking to capitalize on the speed of Musa, Moses and Iheanacho was missing. We can't afford to be a second half team against a big team like Argentina.
3. We should be worried about our defence because we conceded two penalties in two consecutive matches and they are both needless tackles in the 18.
4. Ebuehi impressed in the left wing back role. He is a modern defender with eye on attack. He was the game changer. His introduction gave the eagles width and stretched the play. In my last analysis, i suggested he should start the game against Iceland and I look forward to seeing him starting against Argentina instead of coming from the bench.Our problem has always been our inability to create chances and he seems to be the solution.
5. Eteobo impressed playing forward with Mikel playing deeper. He should start ahead of Iwobi. He is fast, with excellent runs and incisive passes to dangerous attacking channels. Mikel and Ndidi should remain as defensive shield to the last three men.
6. We should keep Musa and Moses in the wings but Moses must be consistent for 90 minutes. The coaching crew must sit him down. No big boy on such stage. The interest of the team is bigger than any player.
Team formation
I will adopt a 4-3-1-2 formation when attacking to give width and spread to the team but contract to 4-5-1 formation when defending.
This will be my team selection:
Uzoho
Bologun. Ekong. Omeruo
Moses. Ndidi. Mikel. Ebuehi
Etebo
Musa. Iheanacho.
Finally the permutations.
I hate permutation in football but this time around, we have no choice but to work on probability.
Mathematically, we need to Fuzzy Logic function to resolve this complex permutations.
1. Already Croatia has qualified with 6 points.
2. Nigeria is second with 3 points with goal difference of zero.
3. Iceland and Argentina are third and fourth with goal difference of -2 and -3 respectfully.
Nigeria needs a win against Argentina to have an assured qualification to the round of 16 or we get a draw against Argentina and we pray that Croatia beats Iceland or we draw and Iceland wins Croatia with not more than two goals so that we qualify on head to head count with Iceland.
Assuming Football is Mathematics
Let Argentina = Iceland, since Argentina played 1-1 with Iceland.
If Croatia beat Argentina 3-0 and beat Nigeria 2-0
Then Nigeria > Argentina.
Therefore Nigeria will beat Argentina > = one goal minimum.
Mathematically, Nigeria has qualified but let's wait and see what will happen on the field.
What do you think?