Haggai Sports Partners Papilo FC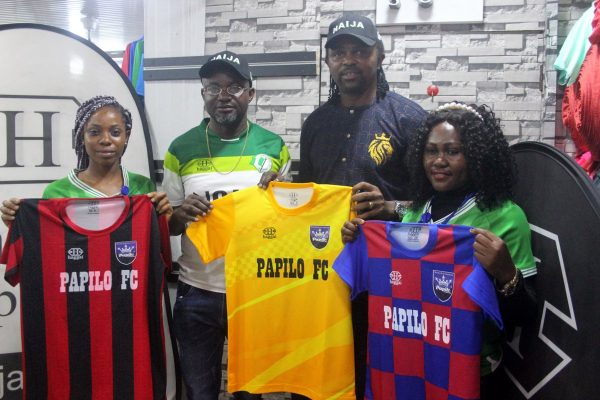 Haggai Sports, Nigeria's No. 1 Sports Brand, announced a new brand partnership with Papilo Football Club. The new partnership makes Haggai Sports the official kit supplier of Papilo FC. At the unveiling event on Tuesday, August 10, the new 2021 official kits were presented to Nigeria/World Football Legend, Kanu Nwankwo, Founder, Papilo FC.
The former Arsenal player and Captain of the Super Eagles of Nigeria was pleased with the quality produced by the 100% Naija-made brand. On a quick tour of the Haggai Sportswear factory in Lagos, Kanu was very impressed with the facilities and machinery on ground.  Truly, Haggai Sports factory investment is a clear step in the right direction for Nigeria's No.1 Sports Brand to drive forward sports and economic development.
As part of the deal, Zebra Ball will also be the official match-ball of Papilo FC. Zebra Ball is fast becoming the most popular match-ball among top athletes, professional clubs and football leagues across Nigeria.
The Zebra Ball is already the top choice of professional football managers and players. It is currently the official match ball of Nigeria Professional Football League (NPFL) Club FC Ifeanyi Ubah, Nigeria Nationwide League (NLO), Nigeria Women Football League (NWFL), Turf Season Super League (TsLiga), Fusion Football Championship (FFC) amongst others.
Made for all conditions, extremely durable and scientifically proven for its balance and precision, Zebra Ball from Haggai Sports strongly rivals other brands as the best football Match-ball in the world. Haggai Sports' Zebra Ball is made perfect according to FIFA approved standards. The soft-touch football with perfect sphericity, control and speed is now available in standard sizes and weights for all ages, E.g. size 5, size 4 and size 3.
Order a Zebra ball now on Turf Season Store.