Game 20: Greens enjoy Easy Victory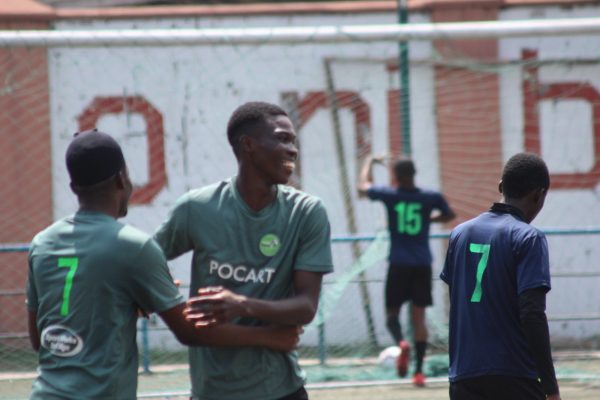 The Greens enjoy 'Easy Victory' in Game 20, scoring 3 times with no reply.
Dotun Adebajo opened up the score sheet, his second in as many games.
Adejumo Habeeb and Agbo Sanctus's goals completed the 3-0 rout, ensuring back-to-back wins for Team Green.
Game 20 Match Highlights
Game 20 Full Match Video
TEAM GREEN:
1 GK ADEOYE ISRAEL
5 DF EYEWE SAMUEL
7 FW AJAYI GABRIEL
9 MF EZEDIMBU SIMEON
10 MF PRECIOUS JEWEL
11 MF SAMPSON UCHENNA
12 MF JACKSON COLLINS
13 MF FATAI TOHEEB
20 FW ADEJUMO HABEEB
24 FW DOTUN ADEBAJO
26 FW AGBO SANCTUS
TEAM BLUE:
1 GK RALPH
2 MF AMOO AYODEJI
3 MF LAWAL THEO
4 DF ADEOLA JACOB
6 FW DUYILE DAVID
7 FW OLATUNJI AL-AMEEN
8 FW FARUQ ABDULFATAI
9 FW CHISOM SAMUEL
10 FW JOSHUA MERCY
11 FW AKINYEMI GANIU
15 MF KAZEEM BABATUNDE
Produced by Paschal Agonsi for Turf Season, a Football project empowering African Grassroots Talent with Education and Career Opportunities since 2015. Discover more at www.turfseason.com.
Contact us here: info@turfseason.com or via Whatsapp: +2348175487536
Proudly supported by Pocarti.com