Game 18: Alfred-Ati Plays Key Role in Green's Win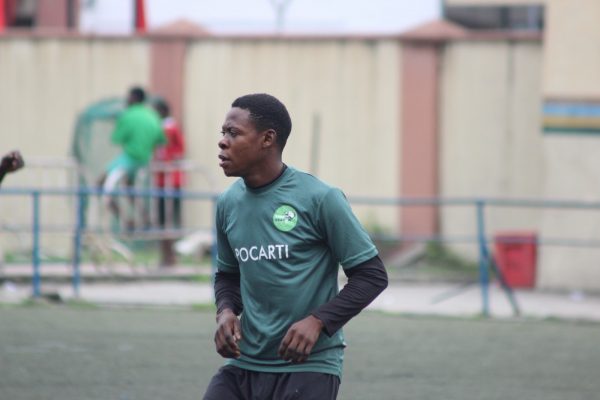 The Greens return to winning ways with a lone 1-0 victory against the Blues.
Ungingi Nelson scored his very first goal in 3 games, meeting the resilient Alfred Ati's cross to take it beyond the reach of Caleb Ishanvobde, the Blues Goalie.
The Blues made good efforts to come back with Theodore Emanezi producing magic moments, but a lack of clinical finishing ensured they will fight another day.
Match Highlights
Full Match Video
TEAM GREEN:
1 GK ISRAEL ADEOYE
5 DF ADESILE SOLA
7 MF SAMUEL IKUOMOLA
9 FW ADEJUMOHABBEB
10 MF UNGINGI NELSON
11 FW SILVER UCHE
12 FW AZEEZ RASHEED
13 MF FATAI TOHEEB
20 FW SAMPSON ARINZE
24 FW SALAUDEEN AHMED
26 FW ALFRED ATI
TEAM BLUE:
30 GK CALEB ISHANVBODE
3 DF JAMES EFOLI
5 DF EMMANUEL EFOLI
6 DF KAZEEM BABATUNDE
7 FW OKORIE DANIEL
8 MF CHIBUEZE PASCHAL
9 FW THEODORE EMANEZI
10 MF ABEJOYE TIMOTHY
11 DF TELLA IDOWU
14 FW OKERE UCHE
15 FW ADESANYA ADEYEMI
Produced by Paschal Agonsi for Turf Season, a Football project empowering African Grassroots Talent with Education and Career Opportunities since 2015. Discover more at www.turfseason.com.
Contact us here: info@turfseason.com or via Whatsapp: +2348175487536
Proudly supported by Pocarti.com