Caleb, Emokpae light up February Football Trials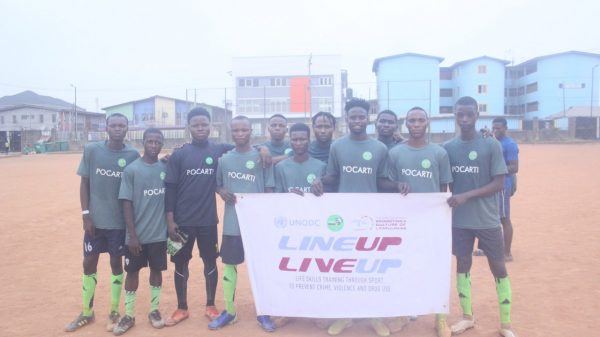 Our February Football Trials (TS Open Scouting Games) took place on Friday the 25th at an 8-Team knockout tournament organised by footballerbase. The game was decided by penalties 4-3 after a 1-1draw full time.
Emokpae put the Turf Season Tigers in front with a brilliant finish after a superb team combination. The goal makes it his second in two games, wherein in both situations, he came from the bench at the start of the second half. A late defensive error ensured the game was to be decided by penalties as the opponents drew level.
Caleb, Tigers No.1, was in superb form all game with some very outstanding saves. It was no surprise that he saved a penalty kick for the team, and was just inches close to saving more. Henry' will be disappointed for missing the final penalty kick of the game. However, it was a brilliant performance from the young players who were against a much more experienced and matured opposition.
Paschal Agonsi, Turf Season founder and director, was very pleased with the players' performance. In his comments after the game, Paschal said that "these are truly the next football stars and it's plain for everyone to see that we must support them to achieve their fullest potentials."
Team List
1. Caleb GK
3. Romeo (Henry, 45)
5. Sunday Francis (Akinyelure, 45)
7. Razzy'
10. Yahaya
11. D. Adegbuyi
12. S. Coker
13. S. Adedeji (Zion, 45)
20. T. Idowu (c)
24. Ben (J. Emokpae, 45)
26. S. Chisom (P. Badejo, 45)
Turf Season's next Lagos football trial comes up in March 2022. Invitations will be sent only to registered players. Player registrations are currently ongoing.
Are you a grassroots footballer aged 15-21?
WhatsApp Turf Season on 0817 548 7536 to feature in our next scouting day/football trials.
What's more to gain?
Worldwide scouting opportunity
Match Videos
Performance Stats
Online Profile/CV
Player Promotion
Transfers Inquiries
Freebies, Goodies
Refreshments
Very limited slots are available!
WhatsApp 0817 548 7536 now to join the Next Football Stars at Turf Season.