2020 Season Registration extended to February 28
Registration for Turf Season 2020 Program has been extended to February 28. The revised deadline was necessary to give participants an extended opportunity to be part of Turf Season 2020 Football Career Advancement program. Registration fees has also been reduced to 10,000 Naira to allow more talents access the Turf Season platform.
Intended Participants are to note clearly the rules and regulations of the Turf Season 2020 Program.
Turf Season Rules and Regulations
No lateness or absence from training/matches
No side talks during training/matches
All players must be on low cut, which should look neat without need for combing
No hand bands
No necklaces
No rings
No ear rings
Do not bring them or carry them along training or match days.
No fighting, violent behaviour or quarrelling
First warning will be a 2 week suspension
Second warning = 2 weeks suspension and fine of 5,000
Third warning = dismissal from the team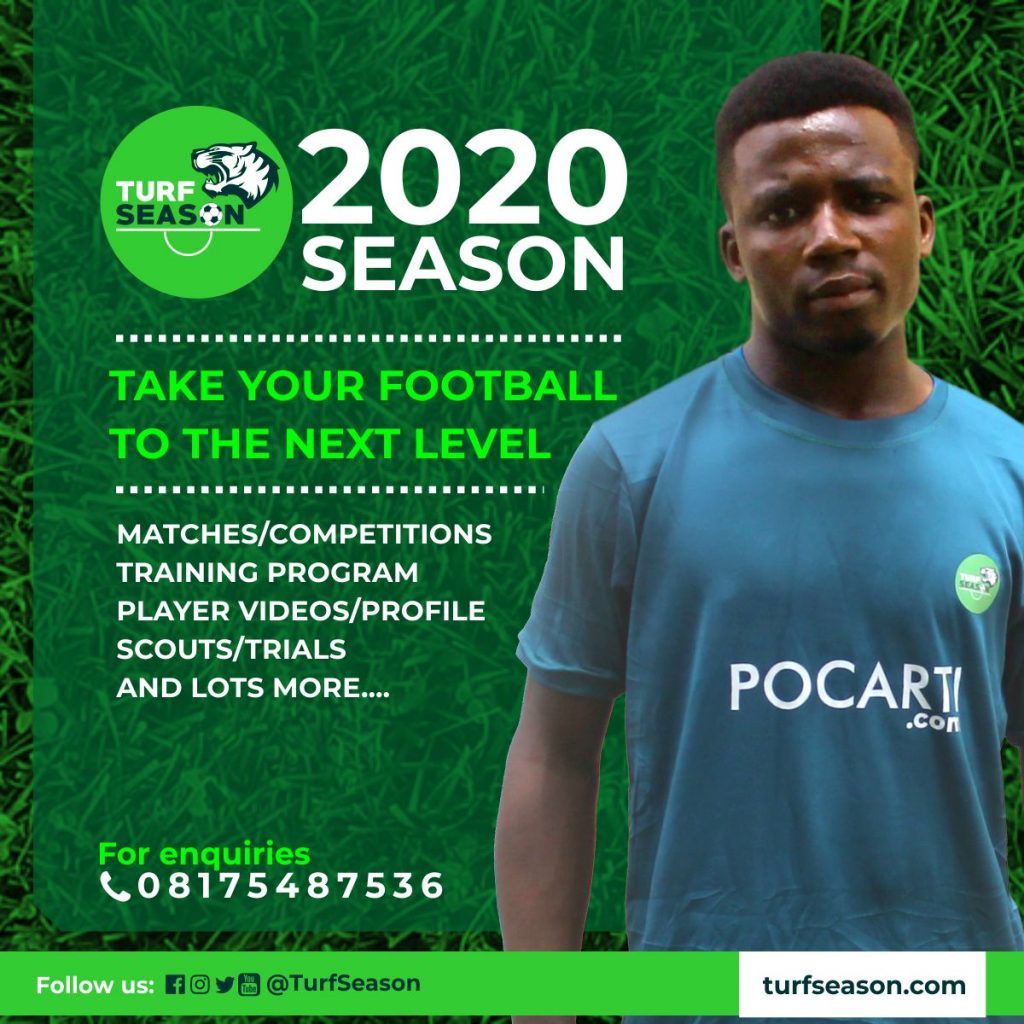 Turf Season 2020 Program Benefits:
REGISTRATION IS FREE
Play in Super League Competition (90 games league)
weekly matches and exhibition games
Match videos and highlights
Access to real and verified football scouts
Opportunities for professional trials and scholarship
Customised Jersey Kits for all players
Specialised weekly training program (Tuesday and Thursday, 9-12noon)
Online Profile and CV
Media coverage and publicity
Features on Turf Season TV
Access to Self Development Training Programs
PRESEASON TRAINING IS CURRENTLY ONGOING:
Tuesday and Thursday, 9am to 12pm
Gbagada stadium, Diya street roundabout, new garage, Gbagada, Lagos
Deadline for admission is February 28, 2020
You are required to pay a kit/media fee of 10,000 Naira (Ten Thousand Naira Only).
Pay to Turf Season, Sterling Bank 0066042821 or Paschal Agonsi GTB 0152372108
For enquiries, call or WhatsApp 08175487536 or +2348175487536 (International)
Kindly visit and subscribe to our YouTube channel: www.YouTube.com/turfseason